€ 2.119,00
ID 449772
2019-02-24 at 00:00:00

USER INFO
Blaskite Shop
Raffaele
Senigallia - Italy
Phone:
3478269601
Other offers by Blaskite Shop
REPORT and SHARING
Share on Facebook
Send to a friend
Report to Staff
Tips on avoiding frauds
SIMILAR SEARCHES
Kitesurf Kites
Ozone
R1 V3 BIG NEWS
Ad text:
OZONE R1 V3 , disponibile nelle tre colorazioi
BLACK, ORANGE, WHITE 7/9/10/11/13/15/17/18/19/21
Possibilità di finanziare l'intero importo con finanziaria Compass in soli tre giorni, contattateci per un preventivo personalizzato

LA NOSTRA CONOSCENZA DELLE VERE PRESTAZIONI NON E' SOLO POTENZA O VELOCITA' - E' LA COMBINAZIONE DI OGNI ASPETTO DELLE CARATTERISTICHE DEL KITES, E SOPRATTUTTO QUANTO SIA FACILE ACCEDERE AL SUO POTENZIALE

Il R1 V3 deriva dal R1 V2. Il vincente Kite da gara R1 V2 molto accessibile da sfruttare nelle sue performance lo ha reso l'aquilone di riferimento nella scena delle gare internazionali. Abbiamo estratto dal precedente modello tutte le migliori tecnologie e caratteristiche per sviluppare il nuovo R1 V3, portandolo ad un livello successivo senza compromettere l'accessibilità alle prestazioni molto performanti.

• La Leading Edge ora beneficia di una doppia forma trasversale creando una superficie più pulita nella zona più importante del kite foil.

• Le nostre nuove linee interne a bassa trazione riducono la resistenza parassitaria al minimo senza compromettere la resistenza. -- colbreak--

• I diametri delle Briglie riducono gli attriti ed il drag complessivamente del 14%.

• Le Ribs interne incrociate sono state massimizzate per migliorare il flusso d'aria interno, con conseguente migliore inflazione.

• Per le dimensioni da 15m-21m il materiale delle Ribs è il più leggero disponibile sul mercato. Il risultato di queste caratteristiche che migliorano le prestazioni sono quelle di avere un aquilone che crea meno drag, per un Kite purosangue da corsa:

• Migliori angoli di Bolina e di Lasco

• Possibilità di utilizzo migliore in basso ed in alto del suo range

• Sensazione più leggera del kite, più maneggevole

• Maggiore stabilità nelle condizioni di vento leggero

• Inflazione più rapida

• Grandezza dell'imballaggio più piccolo per un facile trasporto

Per essere iper competitivi nei venti leggeri abbiamo anche aggiunto le misure 18m e 21m.
Il prezzo si riferisce solo alla vela, misura 7mt


MORE PICTURES OF THIS PRODUCT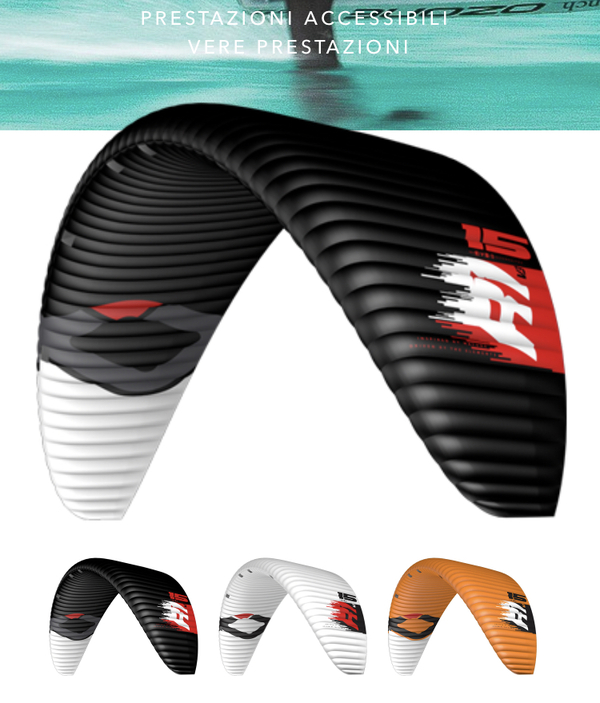 All images have been posted by the owner of this ad
and might not be the actual pictures of the product.

SIMILAR PRODUCTS
5 other ads you might be interested in...

€ 1.449,00
Shop sells
new
Blaskite Shop
Senigallia
Italy


€ 750,00
User sells
used

€ 300,00
User sells
used

€ 950,00
User sells
used

€ 1.650,00
User sells
used