€ 1,00
ID 433692
2019-03-17 at 00:00:00

USER INFO
Impact shop
|
Detail page
(ext link)
Jean Christophe
Bari - Italy
Phone:
+390805343801
Other offers by Impact shop
REPORT and SHARING
Share on Facebook
Send to a friend
Report to Staff
Tips on avoiding frauds
SIMILAR SEARCHES
Other Gear
Rrd
Attrezzatura Kitesurf 2018 (Expo o Demo)
Ad text:
Attrezzatura Kitesurf RRD 2018 (Expo o Demo)

- RRD SALEROSA V4 6'0
- RRD POISON V5 138 x 42
- RRD BLISS V5 WOOD 139 x 43,5
- RRD COTAN V2 LTD 5'4
- RRD BLISS V5 WOOD 135 x 39
- RRD POISON LTD V5 140 x 43
- RRD JUICE V4 140 x 42
- RRD PASSION MK9 12 ORANGE/GRAY
- RRD RELIGION MK8 10,5 PURPLE/PINK
- RRD PASSION MK9 10,5 ORANGE/GRAY
- RRD OBSESSION MK10 9 PURPLE/PINK
- TRAINER KITE SCHOOL 1.8
- GLOBAL BAR V8

VisibilI in negozio.

Ricorda comprare in un negozio non è come comprare da un privato.
Il materiale arriva regolarmente scontrinato e corredato di documenti. Se il prodotto non corrisponde , puoi esercitare il diritto di reso.
Impact shop garantisce il "soddisfatti o rimborsati", quindi se al ricevimento
l'oggetto non dovesse corrispondere alla descrizione potrai restituircelo e noi ti rimborseremo l'intera somma.

Per info chiama 080.5343801 orari 10-13 17-20
oppure visita www.impactsurf.com

MORE PICTURES OF THIS PRODUCT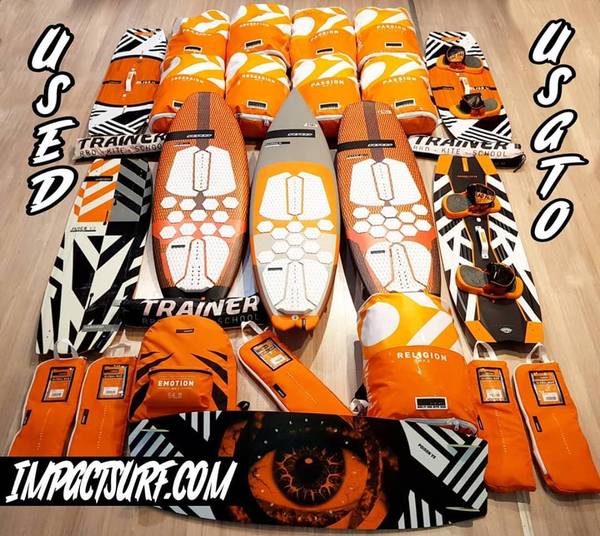 All images have been posted by the owner of this ad
and might not be the actual pictures of the product.

SIMILAR PRODUCTS
5 other ads you might be interested in...
€ 219,00
Shop sells
new
Westbeachshop
Albinia
Italy


€ 800,00
User sells
used
€ 500,00
User sells
used

€ 1.750,00
User sells
used

€ 1.100,00
User sells
used
Francesco
Carlentini
Italy