€ 499,00
Inserzione numero 525282
inserita il 28/04/2022 alle 00:00:00

INFO VETRINA
TwkcShop
Gianluca
Fonteblanda - Italy
Tel.:
+393473748218
Utente da oltre
6
anni

STRUMENTI
Condividi su Facebook
Segnala a un amico
Segnala allo staff
Consigli utili anti-truffa
RICERCHE CORRELATE
Kitesurf Tavole
Duotone
soleil 136
Testo annuncio:
poche ore di mare, solo tavola

www.twkcshop.com
info@twkc.it
3292426342
3473748218

Details
Duotone Soleil 2021

The growth of women's kiteboarding knows no bounds, and the demands of the discerning female riders out there keep moving forwards, the Soleil is designed to exceed those demands. Having an incredible board can be the difference between a good session and a great session. Our design team have spent years working with some of the best female kiteboarders on the planet to create a shape that perfectly complements your needs. The narrow outline combines with the medium flex to offer an unrivalled feeling underfoot. Smooth through the chop with a dynamic feel, and plenty of pop, are the sensations you enjoy. The Soleil is also very good at getting going early in light airs and flies upwind with ease. The Step Mono Concave bottom shape combines with the Space Flex Tips to make landings smooth and controlled. The Torsion Flex Cap maintains control at high speeds and coupled with the NTT Binding your feet will never have had it so good. If you want the best freeride kiteboard on the market for the female rider, then the Soleil is waiting to make you shine!

---
ALTRE FOTO DEL PRODOTTO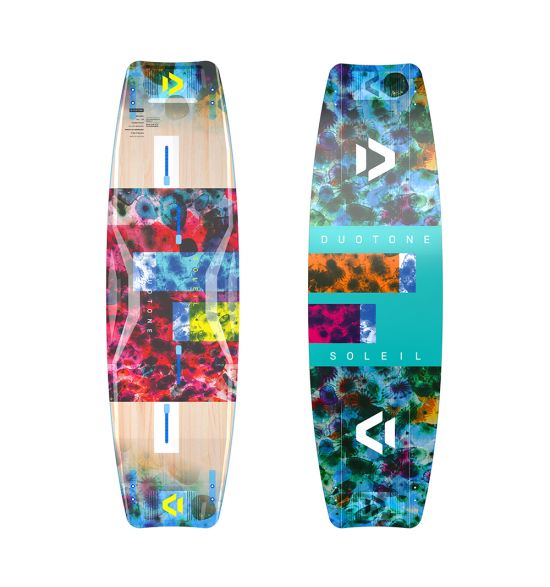 Le immagini sono state indicate dall'utente che ha inserito l'annuncio e potrebbero
non corrispondere al prodotto oggetto dell'annuncio.

---
ANNUNCI CORRELATI
Ecco altri 5 annunci che potrebbero interessarti...

€ 400,00
privato vende
usato

€ 980,00
privato vende
usato

€ 800,00
privato vende
usato
Chiara
Brenzone Sul Garda
Italy

€ 650,00
privato vende
usato

€ 390,00
privato vende
usato
---