€ 569,00
Inserzione numero 487805
inserita il 16/06/2021 alle 00:00:00

INFO VETRINA
Wind Riders
|
Scheda prodotto
Mazzoni
Limone sul Garda - Italy
Tel.:
+393488975467
Utente da oltre
10
anni

STRUMENTI
Condividi su Facebook
Segnala a un amico
Segnala allo staff
Consigli utili anti-truffa
RICERCHE CORRELATE
Kitesurf Tavole
Core
FUSION 3
Testo annuncio:
SIZE AVAILAIBLE:

144X43
147X44
152X46

FREERIDE + | FREESTYLE

Our proprietary 30° biaxial carbon fiber layup optimizes torsion and flex. Our made-to-order 30° biaxial carbon fiber has more flex along the length of the board and less flex between the toe and heal. Cartan carbonís unique high filament count also requires less resin which saves weight. Enjoy improved pop, softer landings, and extreme durability with Cartan.

The rails feature a variable thickness profile, increasing roughly 6mm in depth from the tips to the grab handle. Vario Rails precisely control flex across the entire width of the board. Just imagine the kinetic energy you will generate with these rails!

Powerfully light, marine grade, wood core. The laminated, long-grained Paulownia wood core gives our boards dimensional stability, decay resistance, and a lightweight yet distinctively powerful character. The Paulownia extends towards the board edges and is CNC milled both top and bottom. The large wood core reduces board weight and improves flex memory.

Take a close look at the Fusionís surface contours. Near the footpads, the wood core is milled in the shape of a diamond. This shape directs torsional forces to the edges where you want them for a perfect balance between flex and rigidity.

Inspired by the legendary handling of deep V powerboats in rough waters, we added a deep V-shaped keel along the entire length of the board to penetrate chop and smooth your ride. And who doesnít like its pillow soft landings?

Always in control. The double concave V hull increases hydrodynamic grip at any board angle to rip tighter, butter-smooth turns. Effortless, slashy turns that are imprinted in your memory forever.

---
ALTRE FOTO DEL PRODOTTO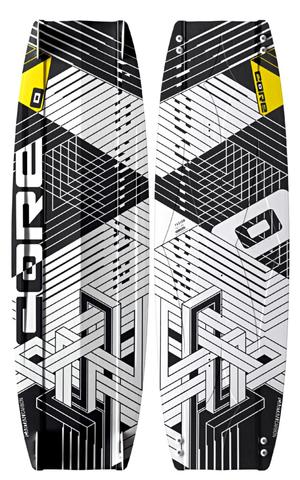 Le immagini sono state indicate dall'utente che ha inserito l'annuncio e potrebbero
non corrispondere al prodotto oggetto dell'annuncio.

---
ANNUNCI CORRELATI
Ecco altri 5 annunci che potrebbero interessarti...

€ 569,00
vetrina vende
usato
Wind Riders
Limone Sul Garda
Italy


€ 750,00
privato vende
usato

€ 569,00
vetrina vende
usato
Wind Riders
Limone Sul Garda
Italy


€ 750,00
vetrina vende
usato
Fh Academy - Surf Shop
Palau
Italy


€ 930,00
privato vende
usato
---