€ 208,00
Inserzione numero 415290
inserita il 04/03/2019 alle 00:00:00

INFO VETRINA
TwkcShop
|
Scheda prodotto
Gianluca
Fonteblanda - Italy
Tel.:
+393473748218
Utente da oltre
3
anni

STRUMENTI
Condividi su Facebook
Segnala a un amico
Segnala allo staff
Consigli utili anti-truffa
RICERCHE CORRELATE
Kitesurf Accessori
North
PIQ BUNDLE North
Testo annuncio:
Jump height in real-time with on board display
Records your rides and tracks your progress
Challenge with the community

Ranking within the leaderboard
Captures data on any Kiteboard
Available on Google Play and AppStore

PiQ Multisports Sensor + Kiteboard Accessory
The PIQ Kiteboarding performance tracker is the newest action sports wearable technology for kiteboarding.

Your PIQ sensor will record your rides, measure your jumps (height, airtime, G-force at landing) in real time. The PIQ motion tracker will tell you everything there is to know about your performance. You'll be able to read the height of your last jump directly on your board with the press of a button. From beginners to seasoned professionals, the PIQ motion tracker was made with riders all levels in mind. With an app that's easy to navigate, you'll have the details of your performance at your fingertips. Share the details of your session with the PIQ community and discover your ranking!

Challenge, compete and compare - all in a matter of seconds! You will find in your box: your PIQ sensor, your PIQFuel charger, the North and PIQ Kiteboard accessory and the activation card. Charge your PIQ sensor with the PIQFuel and get ready for the session

---
ALTRE FOTO DEL PRODOTTO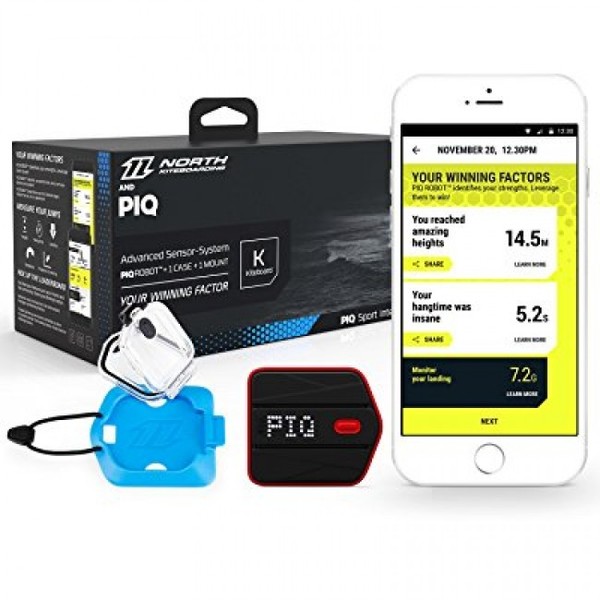 Le immagini sono state indicate dall'utente che ha inserito l'annuncio e potrebbero
non corrispondere al prodotto oggetto dell'annuncio.

---
ANNUNCI CORRELATI
Ecco altri 5 annunci che potrebbero interessarti...

€ 285,00
privato vende
usato
Francesco
Squinzano
Italy

€ 230,00
privato vende
usato
Alessandro
Castelfidardo
Italy
€ 44,90
vetrina vende
nuovo

€ 95,00
vetrina vende
nuovo
€ 129,00
vetrina vende
nuovo
---