€ 489,00
Inserzione numero 452062
inserita il 12/01/2019 alle 17:25:58

INFO VETRINA
Wind Riders
|
Scheda prodotto
Mazzoni
Limone sul Garda - Italy
Tel.:
+393488975467
Utente da oltre
7
anni

STRUMENTI
Condividi su Facebook
Segnala a un amico
Segnala allo staff
Consigli utili anti-truffa
RICERCHE CORRELATE
Kitesurf Ali
North
Dice 10 2017
Testo annuncio:
Kite used only in the Lake Garda sweet water

C-oriented design

4 and 5 lines compatible

3-strut design

Great looping and jumping abilities

Very good unhooked performance

Great drifting abilites

Direct and fast turning

The Dice is a perfectly balanced Freestyle/Wakestyle tool redefining versatility and performance in a C-oriented three strut design, which can even impress in waves. It´s the ultimate kite of choice for all those, who feel the design of the Vegas got a little bit too extreme over the years. A new panel layout with an immensely stable Dacron frame and wave panels on the trailing edge, enhance durability and the overall canopy stiffness. The dynamic curve of the tip strut offers responsive steering, whilst the variety of different length pigtails give even more variation between the different settings. 4 and 5 line compatible, the Dice is a confidence giver with great rider feedback and incredible stability in the air. If you want a kite that is especially prepared for all your Freestyle and Wakestyle tricks, but is also able to perform in waves when actively steered, then the Dice is the one for you.

---
ALTRE FOTO DEL PRODOTTO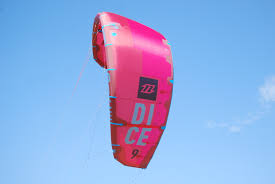 Le immagini sono state indicate dall'utente che ha inserito l'annuncio e potrebbero
non corrispondere al prodotto oggetto dell'annuncio.

---
ANNUNCI CORRELATI
Ecco altri 5 annunci che potrebbero interessarti...

€ 600,00
privato vende
usato

€ 600,00
privato vende
usato
Mirko
Genzano Di Roma
Italy

€ 450,00
privato vende
usato

€ 400,00
privato vende
usato

€ 490,00
privato vende
usato
---