€ 350,00
Inserzione numero 380646
inserita il 04/06/2018 alle 00:00:00

INFO VETRINA
Wind Riders
|
Scheda prodotto
Mazzoni
Limone sul Garda - Italy
Tel.:
+393488975467
Utente da oltre
7
anni

STRUMENTI
Condividi su Facebook
Segnala a un amico
Segnala allo staff
Consigli utili anti-truffa
RICERCHE CORRELATE
Kitesurf Tavole Bidirezionali
North
Gonzales 138/ 41.5
Testo annuncio:
North Gonzales 2013
misura 138/41.5

tavola mai usata, quindi ancora impacchettata nella confezione originale.

planata facile
ottima capacità di up wind

The North Gonzales 2013 is a true all-terrain machine. Medium width and soft forgiving flex the North Gonzales is a great free-ride board with plenty of comfort for cruising and jumping. Lots of riders out there just want a board FREERIDE that works, they are searching for simplicity and a board that will make them look good. The Gonzales does exactly that; riders jump on and instantly feel at home with the board. It is extremely easy to ride; very forgiving and designed to help you improve your kiteboarding fast.

Einfach abzurufende Leistung für schnelle Lernfortschritte:
Das Gonzales ist ein gutmütiges Twintip mit einem großen Einsatzbereich. Es ist perfekt für stylisches Carven, die ersten großen Sprünge oder einfach nur zum genussvollen Cruisen. Einsteiger kommen mit dem Gonzales auf Anhieb zurecht und steigern schnell ihr Fahrkönnen. Es gleitet agil an und zieht einen sehr guten Winkel zum Wind, ohne dass man sich als Fahrer besonders darauf konzentrieren muss.
Butterweich schneidet das Gonzales sogar durch kabbeliges Wasser. Dies animiert zu neuen Tricks, immer engeren, schnelleren Carves und noch höheren Sprüngen.

ALTRE FOTO DEL PRODOTTO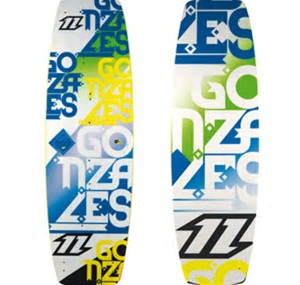 Le immagini sono state indicate dall'utente che ha inserito l'annuncio e potrebbero
non corrispondere al prodotto oggetto dell'annuncio.

ANNUNCI CORRELATI
Ecco altri 5 annunci che potrebbero interessarti...

€ 550,00
privato vende
usato

€ 250,00
privato vende
usato

€ 730,00
vetrina vende
usato
Makai Surfshop
Pescara
Italy


€ 700,00
vetrina vende
usato
Makai Surfshop
Pescara
Italy


€ 320,00
privato vende
usato